Beauty & Self
Books & Music
Career
Computers
Education
Family
Food & Wine
Health & Fitness
Hobbies & Crafts
Home & Garden
Money
News & Politics
Relationships
Religion & Spirituality
Sports
Travel & Culture
TV & Movies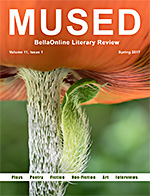 In our modern world of 24-hour diners and around-the-clock email, it sometimes seems as if we've lost track of nature's cycles. But then the Spring Equinox comes along and reminds us to pause. For thousands of years, cultures around the world have recognized this one special day as representing a balance of light and dark. It's a unique moment in time where our world settles in equilibrium – just for a breath. And then the sunlight shines out and pulls us deeper into Spring.

Enjoy the Mused Spring Equinox 2017 Issue



Wix Website from Scratch - Grid Gallery
Digital Art and Design - Diane Cipollo, Editor

In this tutorial, we will add a gallery to our Wix website, which we have created from a blank template. Starting from scratch is a great way to learn the basics.




What Stamp Collectors Should Do
Stamps - Gary Eggleston, Editor

Stamp collecting is a very old hobby and is considered to be one of the most popular hobbies in the world. Though there is not that much money that can be made from this hobby unlike collecting coins, some people just do it for the fun of it.




Third Party Coin Grading Services
Coin Collecting - Gary Eggleston, Editor

Coin collecting has been a very popular hobby to many people of all ages. The marketing of coins has expanded widely and because of this wide the market prices of coins has varied immensely.




Ghost of Paris, MO
Paranormal - Deena Budd, Editor

The "Ghost of Paris" visited the little town of Paris, Missouri every Halloween season from 1864 to 1934.




Modern exorcism- Its strengths and weaknesses
Pagan - Ian Edwards, Editor

Learn how Exorcism today differs from the traditional ways of performing it, and how this has its own strengths and weaknesses




The Value of Companion Animals and ADD
Attention Deficit Disorder - Connie Mistler Davidson, Editor

If your family's lifestyle allows for pet ownership, consider adding a companion animal to your family. These furry family members need the dedication and resources to enjoy a "forever family." When you have a child with ADD, a companion animal, can mean the world to that child.


| Google+ |
E D I T O R R E C O M M E N D E D
Best Sweepstakes Newsletter Subscription


Best Sweepstakes is an excellent way to keep up on the latest sweeps and contests via online, snail mail and text entry. It´s been around for years and is a trusted newsletter among sweepstakers.
The Weiser Field Guide to Cryptozoology


The Weiser Field Guide to Cryptozoology by Deena West Budd includes information, interviews, and stories about forty different cryptids seen in various places all over the world by credible eyewitnesses like policemen, rangers, and doctors. Readers will learn where and how to find flying humanoids, hairy humanoids, giants of all kinds including rabbits, bats and spiders, goblins, and vampires.
Making and Dressing Cloth Dolls


This ebook contains patterns and step by step instruction for making 5 different cloth dolls. These are some of the most popular dolls on the Doll Making Site all together in one handy book.