Beauty & Self
Books & Music
Career
Computers
Education
Family
Food & Wine
Health & Fitness
Hobbies & Crafts
Home & Garden
Money
News & Politics
Relationships
Religion & Spirituality
Sports
Travel & Culture
TV & Movies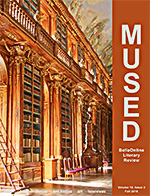 The autumn equinox, that balance point of light and dark, is closely tied to the moon. In China the Moon Festival happens around the autumn equinox, celebrating gratitude and the warmth of good friends and family. This year it was Sept 15th. Our last eclipse of 2016 was a penumbral lunar eclipse on Sept 16th. It fell in conjunction with the full harvest moon, also a symbol of thankfulness and appreciating those who care about you. The autumn equinox is a perfect time to add to those celebrations. It's a wonderful moment to treasure all we have and to share warmth with those who support us.

Autumn Equinox 2016 issue of Mused

Selling Vectors to Microstock Sites
Digital Art and Design - Diane Cipollo, Editor

In this tutorial, we will continue discussing how to clean up your Illustrator vector files for submission to microstock sites. Most of these sites have the same submission requirements and guidelines. Below is a summary of the most important issues.




Try zummus
Allergies and Colds - Sheree Welshimer, Editor

You love hummus but legumes are taboo; then try zummus, made with zucchinis




Age No Longer the Best Mortality Predictor
Geriatrics - Patricia Villani, MPA, PhD, Editor

Up until now the 'medical model' has depended upon the usual checklist of older adult illnesses to predict health and mortality. An important new study shows how we need to change our thinking about what is necessary to live a longer life. Learn all about it here!




Laneige Water Sleeping Mask Review
Body Care - BB Lee, Editor

Laneige Water Sleeping Mask Review




The Dating Game Serial Killer
Crime - Vance R. Rowe, Editor

Rodney Alcala was a serial killer who once appeared on the Dating Game television show. He won the show but after the woman who picked him got to talk with him afterward, found him to be creepy and declined to go on the date. This had probably saved her life.




Dendrobium Farmeri - Farmer's Dendrobium
Orchids - Anu Dharmani, Editor

Dendrobium farmeri has beautiful and sometimes scented flowers. The stems, also called canes, is uniquely shaped.


| Google+ |
E D I T O R R E C O M M E N D E D
God Underneath


Spiritual Memoirs of a Catholic Priest, By Edward L. Beck. Each chapter contains a scripture passage and personal tales revealing God's presence in everyday life. Fr. Beck is a member of the Passionist community and travels throughout the country preaching and organizing retreats. I highly recommend this wonderful book and have personally attended several of Fr. Beck's inspiring parish missions.
Ultra Luster Waterless Car Wash


Ultra Luster Waterless Car Wash: Article Coming in Spring but you can buy it now! Waterless Car Washing just got easier and the results just got better! Get yours now at: UltraLuster Wash, Phone: 877-677-4463, Email: sales@ultralusterwash.com, distributors@ultralusterwash.com shipping@ultralusterwash.com customerservice@ultralusterwash.com