Beauty & Self
Books & Music
Career
Computers
Education
Family
Food & Wine
Health & Fitness
Hobbies & Crafts
Home & Garden
Money
News & Politics
Relationships
Religion & Spirituality
Sports
Travel & Culture
TV & Movies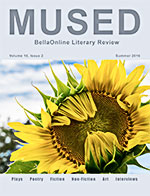 For many people, summertime is the perfect time to explore creativity. Plein air artists bring easels to gardens and beaches, showcasing nature's colors in oils, acrylics, and watercolors. Photographers ferret out a million sights to immortalize. Poets and writers stretch languidly beneath a shady oak tree, listening to the gentle buzz of insects, and constructing entire worlds out of the ether.

Enjoy the creativity of our community of artists - and then explore your own! We'd love to see your works for upcoming issues!

Summer Solstice 2016 issue of Mused

5 Keys to Being Fierce
Women's Fashion - LaTeisha Clément, Editor

Let's face it: It's hard to feel fashionable when you don't like your physical appearance. Our bodies are the canvases for fashion, so they are very much needed! Take a step back and reevaluate your perspective. 5 Keys to Being Fierce




Hollow Man Book Review
Suspense / Thriller Books - Karen Hancock, Editor

Successful prosecutor and part-time musician, Dominic has a great life. Except for the fact that he is a sociopath and is trying to make it in the world and appear normal. This is a fascinating thriller with the protagonist's thought process very different than most of us.




Great Britain's Decimal Day, Feb. 15, 1971
Stamps - Gary Eggleston, Editor

Finally, it had taken more than a century of discussion, to have reached this point. But after following many studies and committee reports, the announcement from the British Chancellor of the Exchequer came in March 1966 that the United Kingdom would decimalize the pound.




1871-CC Quarter
Coin Collecting - Gary Eggleston, Editor

Carson City, Nevada, has a well deserved reputation for some very tough coins. The origin of the Carson City reputation stems from silver dollars. Thanks to Carson City Morgan dollars discovered in Treasury vaults and sold to the public, the coins that created the reputation were not scarce at all.




Magick and Concentration
Pagan - Ian Edwards, Editor

Learn how the art of concentration can be used to increase your magickal skills and help with masking physical pain




Snowflake, L Hauck 1915
Tatting - Georgia Seitz, Editor

Snowflake, L Hauck 1915 Snowflake pattern pg 15 from Tatting of Today pub. by Ladies' World ed. Louise Hauck 1915


| Google+ |
E D I T O R R E C O M M E N D E D
Pinnacle Car Care


The Creme De La Creme of Ultimate Car Care is In the House! Using Pinnacle´s product line is like a visit to the salon and the results--magnifique!
Paradise in Plain Sight


Paradise in Plain Sight: Lessons from a Zen Garden by Zen Priest Karen Maezen Miller, is both memoir and Zen guide. Maezen Miller shares experiences repairing and tending a historical Japanese garden in her own backyard, guiding the reader towards direct insight. It is beautifully written, honest, and relevant to the modern seeker of any faith.
Life Extension Mega Green Tea Extract


Green Tea, or Camellia Sinensis, has been a hot news topic in recent years. Green tea is a main staple consumed by Asian populations for thousands of years and is purported to have numerous beneficial effects on health - one of them being weight loss.