Beauty & Self
Books & Music
Career
Computers
Education
Family
Food & Wine
Health & Fitness
Hobbies & Crafts
Home & Garden
Money
News & Politics
Relationships
Religion & Spirituality
Sports
Travel & Culture
TV & Movies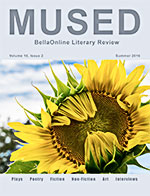 For many people, summertime is the perfect time to explore creativity. Plein air artists bring easels to gardens and beaches, showcasing nature's colors in oils, acrylics, and watercolors. Photographers ferret out a million sights to immortalize. Poets and writers stretch languidly beneath a shady oak tree, listening to the gentle buzz of insects, and constructing entire worlds out of the ether.

Enjoy the creativity of our community of artists - and then explore your own! We'd love to see your works for upcoming issues!

Summer Solstice 2016 issue of Mused

Boxers or Briefs?
Infertility - Hannah Calef, Editor

Type of male underwear may influence sperm DNA integrity.




Entertaining Your Kids in the Airport
Family Travel - Tiffiny Spire, Editor

Getting stuck in the airport can happen for myriad reasons and without any notice. It's much harder to deal with this kind of situation with kids in tow. Use these tips to be ready to entertain your kids the next time you're stuck waiting around an airport.




Prizewinning Chocolate Zucchini Bundt Cake Recipe
Desserts - Karen Hancock, Editor

Although the standard chocolate zucchini cake recipe is good, this one is even better. It is extra moist, extra chocolatey, and absolutely decadent.




Fall Prims to Sew
Sewing - Cheryl Ellex, Editor

Prims are a form of folk art - handmade decorative crafts assembled from fabrics of muted gingham, plaids, natural linens, tea-colored muslin, and burlap. Often accented with weathered boards, punched tins, and tied with twine of jute or raffia - prim crafts suggest a nostalgia for times past.




Cleaning Air Vents
Cleaning - Tammy Judd, Editor

Cleaning vents should be done regularly. You might be pleasantly surprised at the money you save when you have clean vents.




Why Do People Visit Museums?
Museums - Kim Kenney, Editor

There are many different reasons to visit a museum. Understanding why people choose to go to a museum can help boost attendance and allocate limited marketing resources.


| Google+ |
E D I T O R R E C O M M E N D E D
Total En Salud


Android and iOS health app for Spanish speakers. Easy-to-understand, engaging health information to transform lives, enlighten, and empower.
Buddha´s Daughters


Buddha´s Daughters: Teachings from Women Who are Shaping Buddhism in the West is a collection of teachings compiled and edited by Andrea Miller, a writer and editor at the popular Buddhist magazine Shambhala Sun. It includes beautiful teachings from some of the most prominent women teachers in the West, including Lama Tsultrim Allione, Sharon Salzberg, Tara Brach, Pema Chodron, and more.
The Simple Way to Invest Successfully


Does investing seem too complex? Are you confused about how to invest successfully? Many people fail to invest well because they make money issues too complex. Many others never get started investing because they don´t understand the basics of stocks, bonds, and mutual funds. Investing doesn´t have to be difficult.