Beauty & Self
Books & Music
Career
Computers
Education
Family
Food & Wine
Health & Fitness
Hobbies & Crafts
Home & Garden
Money
News & Politics
Relationships
Religion & Spirituality
Sports
Travel & Culture
TV & Movies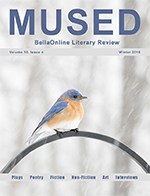 Sometimes it seems as if winter quotes make winter out to be a necessary evil which exists only for us to appreciate the subsequent warmth. Shelley: "If winter comes, can spring be far behind?" Shakespeare: "Now is the winter of our discontent made glorious summer by this sun of York." Hugo: "Laughter is the sun that drives winter from the human face."

But winter is far more than a down against which to compare the subsequent ups. Winter is a powerful, magical time. It is a season of strength. Of looking inward and finding focus. Bob Seger stated, "I write probably 80 percent of my stuff over the winter." Terri Guillemets reminds us, "The color of springtime is in the flowers; the color of winter is in the imagination." The Winter Solstice is a time to embrace the mysterious. The endless possibilities. The sense that we already have, within ourselves, boundless creativity and opportunity. We simply have to still ourselves and listen.

Winter is a powerful season. It gives us that space to look back and learn from our history. To look forward and envision what we wish to become. To be fully mindful of the present and be aware how each day has potential for us to speak out and impact the way our world proceeds. To move us toward peace, fulfillment, and an appreciation of what each of us has to offer.

Happy Winter Solstice.

Enjoy the Mused Winter Solstice 2016 Issue



Cajun Voodoo Stuffing Recipe
Quick Cooking - Karen Hancock, Editor

Here is a delicious Cajun side dish to serve with your favorite blackened chicken, shrimp, fish, or steak. It's perfect to serve on Mardi Gras, but you'll want to serve it all year round, It's easy since it starts with boxed stuffing mix.




Jeweled Mardi Gras Pudding Recipe
Desserts - Karen Hancock, Editor

Mardi Gras is a fun holiday, and if you don't have an opportunity to celebrate in New Orleans, you can have a party at home. This dessert is sparkling with Mardi Gras colors, and it's quick and easy.




How To Keep Stamps In Shape
Stamps - Gary Eggleston, Editor

Collecting stamps, for some people, is more than just a hobby—it's a lifestyle. In fact, the world has been witness to decades upon decades of stamp collecting. Case in point: the American Philatelic Society (APS) with its 44,000 members—the biggest membership in the entire world—was founded as earl




Commemorative Coins
Coin Collecting - Gary Eggleston, Editor

Commemorative coins have become very popular. Many people want to have different kinds of coins in their collections or for souvenirs. Many times they are used as traditional gifts for special occasions. These coins are not considered to be practical gifts, bur are commemorative items that can be ke




Deep Cleaning
Cleaning - Tammy Judd, Editor

Deep cleaning ANY room will have the same basic steps. As long as you are routinely cleaning, your deep cleaning time won't be as intense or take as long. There are always going to be some things that are necessary to do in order to do a complete deep clean.




Can You Pass The Cellulite Test?
Body Care - BB Lee, Editor

Studies show that the majority of the female population develop cellulite at some point in their life.


| Google+ |
E D I T O R R E C O M M E N D E D
Living Language Spanish


You don´t need to know Spanish to travel to the Southwest USA, but it will enhance your experience. This is the best-selling Spanish language instruction product at Amazon.com.
Visual Link Spanish


Spanish language, interactive lessons. You can try 11 lessons for free. I´ve been recommending this course for several years, as I find it very intuitive.
Golf Rules Illustrated


Beginning golfers should have this book as they learn the game of golf and experienced golfers should refer often for reference. Knowing the proper etiquette with help you enjoy the game. Published by the United States Golf Association.