Beauty & Self
Books & Music
Career
Computers
Education
Family
Food & Wine
Health & Fitness
Hobbies & Crafts
Home & Garden
Money
News & Politics
Relationships
Religion & Spirituality
Sports
Travel & Culture
TV & Movies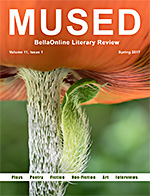 In our modern world of 24-hour diners and around-the-clock email, it sometimes seems as if we've lost track of nature's cycles. But then the Spring Equinox comes along and reminds us to pause. For thousands of years, cultures around the world have recognized this one special day as representing a balance of light and dark. It's a unique moment in time where our world settles in equilibrium – just for a breath. And then the sunlight shines out and pulls us deeper into Spring.

Enjoy the Mused Spring Equinox 2017 Issue



Heckedy Peg Picture Book Review
Reading - Connie Mistler Davidson, Editor

Heckedy Peg is the melding of Audrey Wood's words and the paintings of Don Wood to make a compelling picture book that is a treat for all ages. Young readers love the story and enjoy the pictures of the characters, especially the children. Kids like to discover the nuances of each of the pictures.




Rango – Film Review
Self Development - Dr JOY Madden, Editor

Rango is not just another animated film. As covered in this self development review, here is a chameleon who seeks purpose in life and goes from simply existing to becoming highly respected. With quirky dark humour, great animation and weird characters, this is definitely a film to see.




Lake Tahoe... Lighthouses?
California - Korie Beth Brown, Ph.D. , Editor

Looking for lighthouses in all the wrong places? You'll actually find the remains of two in Lake Tahoe! Hikers will enjoy the walk to these historical and naturally beautiful places.




Cornflowers
English Garden - Carol Chernega, Editor

The lovely Cornflower is an easy to grow traditional flower of English country gardens.




Moons of Mars - Deimos
Astronomy - Mona Evans, Editor

By the late 19th century we knew Jupiter, Saturn, Uranus and Neptune had moons. But it seemed that there were no Martian moons. Then in 1877 American astronomer Asaph Hall surprised the world with two Martian moons. Why did it take so long to find them? And why did Hall call them Fear and Terror?




Lovely Tatting Doilies - Hye-oon Lee
Tatting - Georgia Seitz, Editor

Hye-oon Lee has published a tatting book, Lovely Tatting: Doilies for Spring and Summer (in English.) Hye-oon presents many traditional style doilies, small and large. But there are some non traditional construction methods used especially in the center of several doilies. 2016


| Google+ |
E D I T O R R E C O M M E N D E D
Paradise in Plain Sight


Paradise in Plain Sight: Lessons from a Zen Garden by Zen Priest Karen Maezen Miller, is both memoir and Zen guide. Maezen Miller shares experiences repairing and tending a historical Japanese garden in her own backyard, guiding the reader towards direct insight. It is beautifully written, honest, and relevant to the modern seeker of any faith.
Turn On Your Inner Light by Debbie Mandel


This entertaining book offers easy to implement stress-management tools for 29 common life situations: techniques, visualizations and a fitness workout to get you off the couch. Take back your power and live more energetically. Don't vent - reinvent!
LoMásTv


Highly recommended product, if you really want to improve your Spanish. While watching the video you have the option to read, in subtitles, the words in Spanish and, if you also chose it, you can read the translation (in English) for it. Simply... ¡Genial!