Mary Jane Hall Tells About Her Crochet Motivation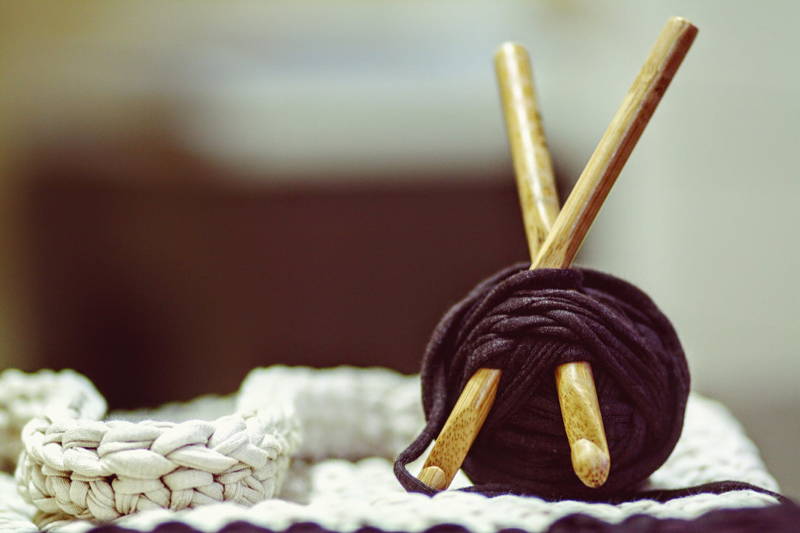 In the first part of an interview spread over a number of articles, Mary Jane Hall, crochet designer and author of Positively Crochet, talks to us about the design process, shares tips for aspiring designers and gives us an interesting insight into the world of crochet designing.
KP: How long have you been crocheting and how did you get started?
MJH:
Well, I was 18 and in collage. This was 1969 when crochet was all the rage (just like today) and I wanted to learn to make those long crocheted vests. I think I made 10 of those for my friends in collage that year for Christmas. I was obsessed and you guessed it! My grades went down as a result of spending more time on crochet.
KP: What inspired you to start designing crochet items?
MJH:
A little over 2 years ago several teen girls and women ages 20-60 came to me asking if I'd teach them to crochet. They had started to see lots of crochet garments in the stores, including ponchos. These eager young girls wanted to make ponchos and I could not find very many patterns on the internet at the time. I decided to try my hand at designing some that were more updated such as the shorter ponchos and capelets. Then I decided to try selling some of the patterns on eBay and I sold 150 patterns in a 2 month period. At that point, I thought I'd see if any publishers were looking for new patterns. I had contacted Kooler Designs after seeing their email in a booklet called Ruthie's Scarves. They liked my patterns and after showing them to Leisure Arts (their publisher) Donna Kooler called me to say that they wanted to publish not only one but two booklets of my designs! I was in shock and on cloud 9! They wanted all 14 designs to California immediately. So I guess I was at the right place at the right time!! After that, I began designing more crochet wearables and accessories, and Carol Alexander chose all 11 of the ones I had emailed her (for Crochet! magazine and other DRG books). The rest is history! I have not even taken a break from designing since that happened 2 years ago.
KP: Can 'anyone' design crochet patterns? What skills do you need?
MJH:
People say to me all the time, "You are so talented!", or "You have a special gift", and my response is, "Thank you so much, but anybody can do this. It just takes desire and determination." I am the kind of person who believes that anybody on this earth can do anything they set their mind to. Of course I have had good influences in my life. At an early age when I was growing up, my sisters and I had a singing group and we sang professionally (getting paid) by being regulars on a Saturday evening show every week, called "Country Junction". We didn't like country back then, but we sang folk songs with our guitar. Also as teenagers, we had our own weekly radio program and we also traveled all over the state singing and campaigning for a state representative. So we were told by our parents that we could "do anything we set our minds to do." We were very successful as singers and also made a record and appeared on TV many times. Then when I left home and got out on my own, those principles stuck with me. I continued singing professionally at fairs and festivals (as well as other events) and that principle translated into other areas of my life. I have tried to succeed in anything I do. I think it is a mind set, and a decision that you make. It just took determination and a lot of work.
Another example is that people tell me all the time, "You're such a good cook. You are so talented. I wish I could cook like you". I just laugh and say, "Can you read?" If they say yes, then I say, "If you can read a recipe, you can cook!" When I became a realtor in the 80's, I was top sales person of the year my first 3 years. I do not say this in any way to brag or to boast. I am not any more special than any other human being. Anyone can do those things if they set their mind to it. Another thing is that I married a guy, Terry, who is one of the most talented motivational speakers you could ever hear. He has traveled all over the country giving his "Yes, You Can!" seminars to businesses, churches, and the chamber of commerce in different cities. What he says about life is very powerful and has substance. He makes people laugh and he can bring people to tears 2 seconds later. I have been surrounded by positive thinking most of my life, and so when you asked me "Can anyone design?", I had to give you the background on where I am coming from and why I believe anyone CAN design. In fact they can do anything they want to do, as far as it's morally right and legal!
KP: What are your plans for the future?
MJH:
I absolutely love designing and I have made so many wonderful friends in this business. (designer friends, editors, publishers and fans) This career has really enhanced my life, and I want to do it forever. I'll do it till I'm 100 if I can! I like submitting designs to magazines, but I also love doing books. I don't like all the pressures, but the rewards are great. And I'm not just talking about money!!

Related Articles
Editor's Picks Articles
Top Ten Articles
Previous Features
Site Map





Content copyright © 2019 by Kate Pullen. All rights reserved.
This content was written by Kate Pullen. If you wish to use this content in any manner, you need written permission. Contact Holly Messenger Aamot for details.