Beauty & Self
Books & Music
Career
Computers
Education
Family
Food & Wine
Health & Fitness
Hobbies & Crafts
Home & Garden
Money
News & Politics
Relationships
Religion & Spirituality
Sports
Travel & Culture
TV & Movies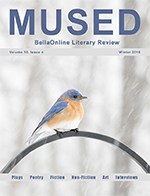 Sometimes it seems as if winter quotes make winter out to be a necessary evil which exists only for us to appreciate the subsequent warmth. Shelley: "If winter comes, can spring be far behind?" Shakespeare: "Now is the winter of our discontent made glorious summer by this sun of York." Hugo: "Laughter is the sun that drives winter from the human face."

But winter is far more than a down against which to compare the subsequent ups. Winter is a powerful, magical time. It is a season of strength. Of looking inward and finding focus. Bob Seger stated, "I write probably 80 percent of my stuff over the winter." Terri Guillemets reminds us, "The color of springtime is in the flowers; the color of winter is in the imagination." The Winter Solstice is a time to embrace the mysterious. The endless possibilities. The sense that we already have, within ourselves, boundless creativity and opportunity. We simply have to still ourselves and listen.

Winter is a powerful season. It gives us that space to look back and learn from our history. To look forward and envision what we wish to become. To be fully mindful of the present and be aware how each day has potential for us to speak out and impact the way our world proceeds. To move us toward peace, fulfillment, and an appreciation of what each of us has to offer.

Happy Winter Solstice.

Enjoy the Mused Winter Solstice 2016 Issue



Winding Hanks into Balls
Knitting - Korie Beth Brown, Ph.D., Editor

That beautiful hank of hand-painted yarn needs to be wound before you knit it! Here are tips on how to do this well.




The Pineapple Express
California - Korie Beth Brown, Ph.D. , Editor

The "river in the sky" keeps on churning....




Ananda
Yoga - Korie Beth Brown, Editor

A Sanskrit word meaning 'joy,' ananda is a perfect focus for yoga practice.




Brother enjoying a month in Bangalore
Romantic Getaways - Marianne de Nazareth, Editor

Every year at this time my brother visits from Perth




Valentine's Day Cherry Cheese Tart Recipe
Desserts - Karen Hancock, Editor

Almost everyone likes to make a showstopper dessert for Valentine's Day. This one isn't difficult to make, can be made ahead, and is attractive.




Haunted Screens - German Expressionism in Film
Drama Movies - Angela K. Peterson, Editor

German Expressionist films, produced between 1913 and 1933, influenced American film noir and continue to inspire filmmakers, including Tim Burton and Ridley Scott. I attended a museum exhibit that featured set designs and production photos from films such as "Metropolis" and "Nosferatu".


| Google+ |
E D I T O R R E C O M M E N D E D
Caillou Goes Back to School DVD


Caillou Goes Back to School DVD is great for kids who are Caillou fans, and other kids who enjoy watching shows that depict family life.
Make Clothes for 18 Inch Dolls


With this book you can make a complete wardrobe for 18 inch dolls; including dresses, pants, jewelry, a bag and a crocheted outfit.
Eagle One is 2nd to None!


Everyone should have the basics to keep their rides shiny and road ready. The only way to do it is with Eagle One all day long!