Beauty & Self
Books & Music
Career
Computers
Education
Family
Food & Wine
Health & Fitness
Hobbies & Crafts
Home & Garden
Money
News & Politics
Relationships
Religion & Spirituality
Sports
Travel & Culture
TV & Movies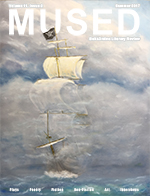 Our time on this Earth is fleeting and precious. We often know that in a vague, intellectual sense, and yet we can find ourselves whittling away those finite minutes without mindful thought. We should celebrate the beauty in a child's smile. The radiant sound of saying "I love you" to that special person. The warm touch of a hand. The delicate scent of a wildflower.

Enjoy the Mused Summer Solstice 2017 Issue



I am Four Movie Review
Action Movies - Dianne Walker, Editor

It's tough always being the new kid on the block, but when it's the difference between life or death, that's a different twist…especially when you're a Mogadorian. Number 4 is on the run with his guardian Henri when they wind up in, of all places, Paradise, Ohio.




Halden Prison
Crime - Vance R. Rowe, Editor

Halden prison in Norway is known as the most humane prison in the world. Read my article to find out why.




25 Benefits of Reading
Reading - Connie Mistler Davidson, Editor

If we are readers, we read books constantly. Even if we are not readers, we read, constantly. Directions, signs, pamphlets, work product, labels, textbooks, novels, and reviews all count as reading. Why should you read? What are the benefits of reading? Here are 25 of them, in no particular order.




Cleaning Your Sinks
Cleaning - Tammy Judd, Editor

Getting your sinks clean will help make your entire house feel clean.




Dark Houses Book Review
Suspense / Thriller Books - Karen Hancock, Editor

The murdered body of a young girl is discovered in an empty house, and DI Stephen Greco and his team must investigate and find the perpetrator before more of the same occurs. However, DI Greco has personal problems of his own to solve, and his personal relationships may be at risk.




Alphabet L - Z Anna Valeire Book 3
Tatting - Georgia Seitz, Editor

The Tatted Alphabet by Anna Valeire Book 3 pg. 15. Tatted initials are handy for many projects. And added flower or decorative picots are just fine, too.


| Google+ |
E D I T O R R E C O M M E N D E D
Pinnacle Car Care


The Creme De La Creme of Ultimate Car Care is In the House! Using Pinnacle´s product line is like a visit to the salon and the results--magnifique!
Mastering Essential Math Skills


This exercise book is an excellent resource to practice and review math skills you´ll need to establish a strong foundation and smooth transition into Algebra and other higher math courses. Workbooks are available for 4th – 5th grade and middle school / high school.
LoMásTv


Highly recommended product, if you really want to improve your Spanish. While watching the video you have the option to read, in subtitles, the words in Spanish and, if you also chose it, you can read the translation (in English) for it. Simply... ¡Genial!