Beauty & Self
Books & Music
Career
Computers
Education
Family
Food & Wine
Health & Fitness
Hobbies & Crafts
Home & Garden
Money
News & Politics
Relationships
Religion & Spirituality
Sports
Travel & Culture
TV & Movies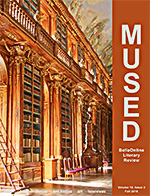 The autumn equinox, that balance point of light and dark, is closely tied to the moon. In China the Moon Festival happens around the autumn equinox, celebrating gratitude and the warmth of good friends and family. This year it was Sept 15th. Our last eclipse of 2016 was a penumbral lunar eclipse on Sept 16th. It fell in conjunction with the full harvest moon, also a symbol of thankfulness and appreciating those who care about you. The autumn equinox is a perfect time to add to those celebrations. It's a wonderful moment to treasure all we have and to share warmth with those who support us.

Autumn Equinox 2016 issue of Mused

Flying into Tennessee
Romantic Getaways - Marianne de Nazareth, Editor

A snap decision to go spend a month with Andrew & Annika in Tennessee




Everything Needs A Home
Cleaning - Tammy Judd, Editor

In order to cut down on the amount of clutter in your home you should make sure everything has a place. This makes cleaning easier and streamlines your efforts. Read on to find out what the 10 most important things to house!




No Bake Halloween Torte Recipe
Desserts - Karen Hancock, Editor

If you're short on time, this cute Halloween dessert can be made in about 30 minutes. Or, if it's more convenient, it can be made a couple of days ahead. Orange and chocolate are flavors that definitely complement each other, so guests will swoon.




Sewing with Plaids
Sewing - Cheryl Ellex, Editor

Plaids have always had a traditional strong presence for the fall and winter seasons. From the many customary tartan plaids of the Scottish Highlands to the red, black, camel and white English Burberry signature design – plaids are a very distinct and memorable style maker.




Easy Spiderweb Buns Recipe
Quick Cooking - Karen Hancock, Editor

These cute buns are easy to make in the automatic bread machine. They are perfect for Halloween hot sandwiches such as sloppy Joes, or sandwiches made with deli meats.




Aphid Repelling Plants That Can Grow With Orchids
Orchids - Anu Dharmani, Editor

Pestered by pests like aphids, why don't you try growing some plants ..... aphid repelling plants.


| Google+ |
E D I T O R R E C O M M E N D E D
Pinnacle Car Care


The Creme De La Creme of Ultimate Car Care is In the House! Using Pinnacle´s product line is like a visit to the salon and the results--magnifique!
Healing Herbs


Unknown facts revealed about herbs. Information that you should know about 80 herbs that treat common health ailments.
The Weiser Field Guide to Cryptozoology


The Weiser Field Guide to Cryptozoology by Deena West Budd includes information, interviews, and stories about forty different cryptids seen in various places all over the world by credible eyewitnesses like policemen, rangers, and doctors. Readers will learn where and how to find flying humanoids, hairy humanoids, giants of all kinds including rabbits, bats and spiders, goblins, and vampires.