Beauty & Self
Books & Music
Career
Computers
Education
Family
Food & Wine
Health & Fitness
Hobbies & Crafts
Home & Garden
Money
News & Politics
Relationships
Religion & Spirituality
Sports
Travel & Culture
TV & Movies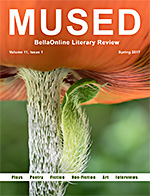 In our modern world of 24-hour diners and around-the-clock email, it sometimes seems as if we've lost track of nature's cycles. But then the Spring Equinox comes along and reminds us to pause. For thousands of years, cultures around the world have recognized this one special day as representing a balance of light and dark. It's a unique moment in time where our world settles in equilibrium – just for a breath. And then the sunlight shines out and pulls us deeper into Spring.

Enjoy the Mused Spring Equinox 2017 Issue



Woolly Wormhead, Independent Designer
Knitting - Korie Beth Brown, Ph.D., Editor

Knitting is a worldwide passion, and European traveler, knitwear designer, and free spirit Wooly Wormhead has made the world her home. Fortunately for those of us living in one place, her website enables us to purchase her unique patterns over the Internet!




17 Mile Drive
California - Korie Beth Brown, Ph.D. , Editor

If possible, borrow, rent, or buy a convertible for the drive – it may be cold, but the weather is part of the experience! If that's not possible, roll the windows down and let the Central Coast air perfume your drive.




Janu Sirsasana
Yoga - Korie Beth Brown, Editor

This pose is deceptively simple. Be careful and pay attention to your form so that you don't injure yourself.




12 Must-Pack Necessities For Your Alaska Cruise
Cruises - Nancy Schretter, Editor

Packing for an Alaska cruise can be difficult. Alaska's weather is highly changeable, so it's important to be prepared. You'll want to bring the right camera equipment and gear to get the most out of your experience as well. Here are twelve must-bring items to pack for your Alaska cruise.




Is Your Skin Beach Ready Ethnic Beauties?
Ethnic Beauty - Juliette Samuel, Editor

Finally, it's time to go to the beach. Is your skin beach ready? Not yet? Here's a body scrub recipe to help you along.




Eric Frein
Crime - Vance R. Rowe, Editor

Eric Frein led police and other agencies on a 48 day manhunt after killing a Pennsylvania State Trooper and seriously wounding a second one, using a sniper rifle from the woods.


| Google+ |
E D I T O R R E C O M M E N D E D
Simple Delicious Italian Recipes


Simple Delicious Italian Recipes. Authentic Italian recipes easy to follow and simple to prepare, written by Cinzia Aversa, Italian Food Editor at BellaOnline.com. A perfect gift idea for any Italian food lover.
Harvey Penick´s Little Red Book


This isn´t just another one of those instruction books written by a local golf pro. Penick is easily the most insightful instructor the game has seen. Little Red Book is a huge dose of reality about the golf and how to improve your game.
Bird by Bird by Anne Lamott


A funny, unpretentious, sympathetic look at the writing life. The section on allowing yourself to write a crappy rough draft (so you can get it done in the first place) is worth the price of the book alone.